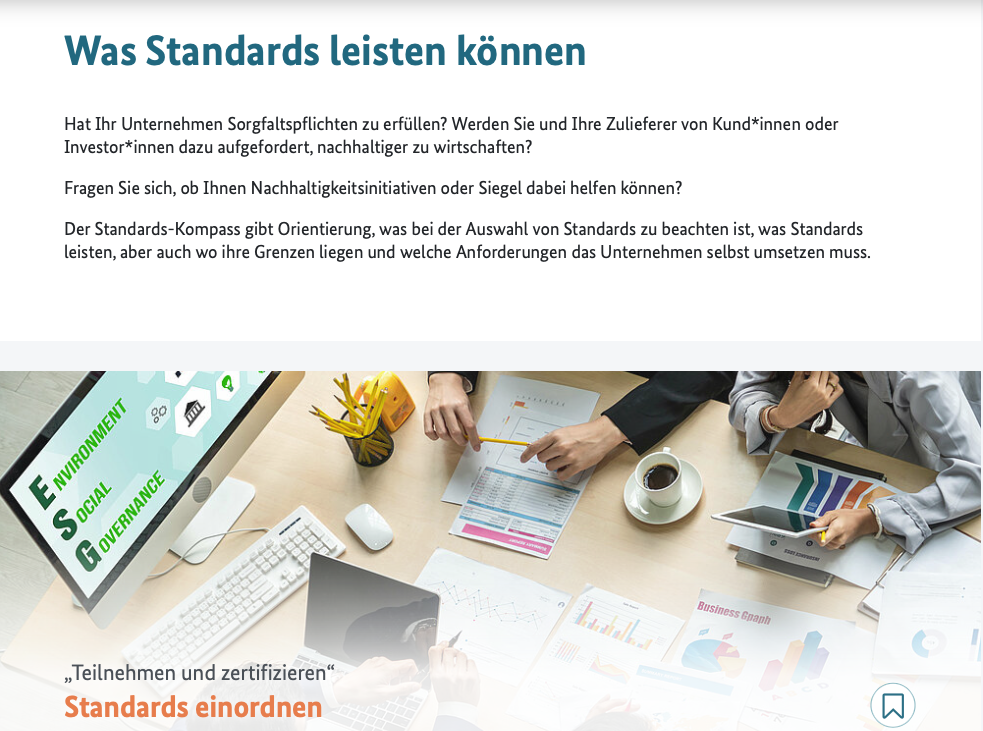 10.2022

New comparison tool for sustainability standards goes online

A new standards compass provides guidance on sustainable seals, industry standards and multi-stakeholder initiatives. This makes it easier for small companies to identify which standards fit their sustainability management.

A large and diverse number of standards have been developed with different approaches to sustainability. Small and medium-sized enterprises (SMEs) in particular often do not have the time and resources to gain an overview themselves and make qualified decisions about which standards can support them in their processes. The Standards Compasscomparison tool is now intended to provide clarity and orientation in the "seal jungle".

On behalf of the German Federal Ministry for Economic Cooperation and Development (BMZ), Helpdesk Business & Human Rights and the Gesellschaft für Internationale Zusammenarbeit (GIZ) developed the Standards Compass. On October 25, 2022, the Compass was presented to the public. The comparison tool supplements the SME Compass with a second component alongside the Due Diligence Compass, which helps small and medium-sized enterprises in particular to implement due diligence processes step by step.
What can standards achieve?
Standards play an important role in the sustainable transformation of our economy. However, there are hurdles in their practical application, which has so far often led to sustainability potentials remaining untapped. The Standards Compass now facilitates orientation and reliably informs companies about what to consider when selecting standards, what standards achieve, but also where their limitations lie and which requirements the company itself must implement.
"The BMZ is committed to ambitious regulations on corporate due diligence – but we also support companies in meeting these requirements," said Anosha Wahidi, Head of Unit for Sustainable Supply Chains at the Federal Ministry for Economic Cooperation and Development in a press release. "With the Standards Compass, we have developed another easily accessible tool to help companies make their contribution to the sustainable transition of global supply chains. However, it is important to emphasize that standards and certificates are not a carte blanche. They help meet individual due diligence requirements, but do not replace them."
"The Standards Compass offers companies a dual benefit. It serves as a central knowledge database on sustainability standards and at the same time as an application-oriented implementation aid that places standards directly in the wider corporate sustainability process," explains Katharina Hermann, head of the Business and Human Rights Helpdesk. "Companies can now make informed decisions about the opportunities and limitations of standards in the due diligence process and choose the standards that fit your needs – credible, ambitious and due diligence-based."
How does the Standards Compass work?
A simple filter function enables a targeted search for the appropriate standards, broken down by industry and stage of the value chain, among other things. Using a catalog of criteria, the standards are evaluated transparently and objectively on a voluntary basis. Leading experts in the field of human rights due diligence were consulted at various points to develop the evaluation methodology. Initially, around 20 will be activated for the launch. The list will be gradually expanded until all current standards are included. Checklists also provide an overview of the specific steps required on the path to standards membership or certification.
The assessment methodology of the Standards Compass is based on the United Nations Guiding Principles on Business and Human Rights – the most important global framework for human rights due diligence.