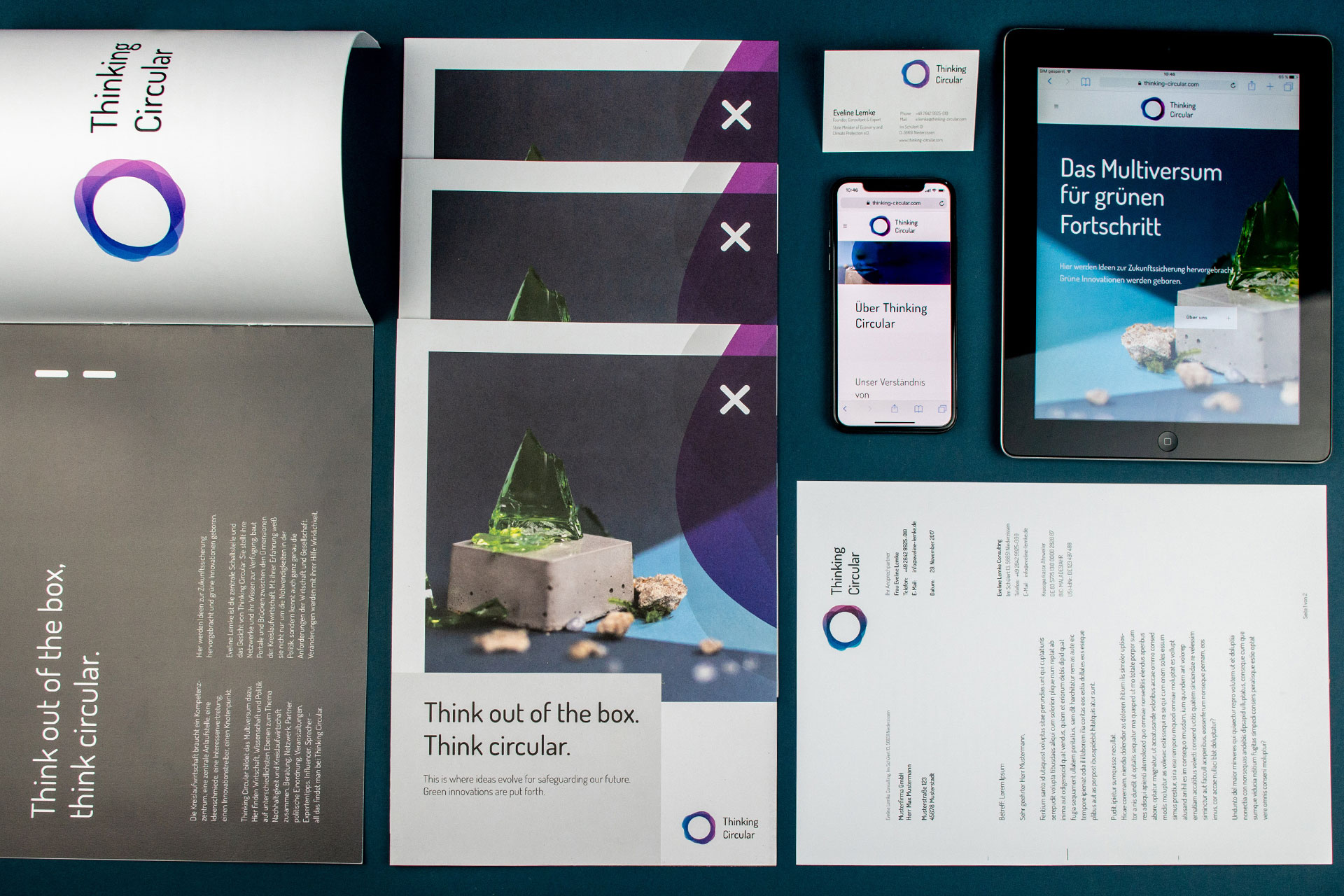 11.2018

The story of Thinking Circular®

After her term as Minister for Economy, Climate Protection, Energy and State Planning in Rhineland-Palatinate, in 2017 Eveline Lemke seized the opportunity to reposition herself personally and professionally. Thus she founded the consulting company "Eveline Lemke Sustainability and Circular Economy Consulting". 
Together with the agency for branding and design p21 by Yvonne Kamp in Grafschaft, a complex brand development was started aiming at systemic and science based consultancy for sustainability and circular economy.
As a result the green multiverse "Thinking Circular®" was registered as a trademark at the European Union Intellectual Property Office in 2018 and it forms the basis for further development.

The principle of Cradle 2 Cradle by Prof. Michael Braungart and the cooperation with his institute EPEA as well as the cooperation with Daniel Wortmann and his company DWR-Eco set the direction and very quickly led to cooperation with the OECD-IIASA Task Force on Systems Thinking and its chairman, Martin Lees. Thinking Circular was listed as a think tank at the UN ESCAP-SDG Helpdesk in 2018. 
The platform of the green multiverse quickly proved itself and met the different requirements for consultancy in a wide variety of industries as well as the many requests for expert knowledge and networks in the circular economy. This was followed by giving lectures such as "Chances and challenges of green economy in business and technology" at the EU-China Business and Technology Cooperation Fair in Qingdao, China, "Circular Economy – Flow of values" at Oslo Innovation Week, "Parallels between energy- and raw material-transition "at the Berlin Recycling and Raw Materials Conference and much more. As a consultant, Eveline Lemke and Thinking Circular accompanied Startups such as Teraloop with their introduction for the Sustainable Innovation Forum at COP24 in Katowitce, Poland or REEP with their innovative concept "The digitalized workplace" for the World Economic Forum in Davos.

From the beginning, Thinking Circular was closely linked to FZ-Recycling GmbH & Co. KG, which develop solutions for separating composite materials. The office community caused the planning and implementation of its own shared location. The plant in Niederzissen, in the Brohltal Ost commercial area close to the A61, will be ready in 2020 and will present a circular hotspot with 600 m2 of production area and 300 m2 social and office area as well as 5000 square meters for further development. Low energy standards, CO2 neutrality and the self-sufficient supply of renewable energies are both a requirement and an incentive. All materials used in the building can be recycled and so circularity can be approved.